Anonymous Testing Service (ATS)
Background
AfA's Anonymous Testing Service (ATS) is Singapore's largest and longest-running anonymous HIV test site, approved by MOH. The site also offers Syphilis, Gonorrhoea, and Chlamydia tests.
Staffed by trained and dedicated volunteers, ATS prides itself on providing affordable, safe, and client-centered service to all patrons, regardless of gender, race, nationality or sexual orientation.
No name or NRIC is required. Test results are available within 15–20min.
All testing is by walk-in basis. No appointment-booking required, please fill in the registration form for a quicker process.
Tests and Prices
   

HIV

    3rd Generation – $32
    4th Generation – $42
    Self-Testing Kit – $22

   

Syphilis – $30
The ATS accepts cash and PayNow (no credit cards).
Funds collected are channelled to supporting advocacy programmes, linkage to care for those who are newly diagnosed with HIV, and providing support services for persons living with HIV/AIDS.
Location
31 Kelantan Lane
Singapore 200031
Getting Here
Nearest MRT stations: Jalan Besar/Rochor (DTL), Farrer Park (NEL), Lavender/Bugis (EWL)
Operating Hours
Tuesdays & Wednesdays 6:30pm to 8:30pm
Saturdays 1:30pm to 3:30pm
(except Public Holidays and eves of Public Holidays)
Note: AfA is not affiliated with DSC Clinic. With kind support from DSC, ATS is allowed to operate within a clinical setting when the DSC Clinic is closed. For more information about DSC, please refer to their website.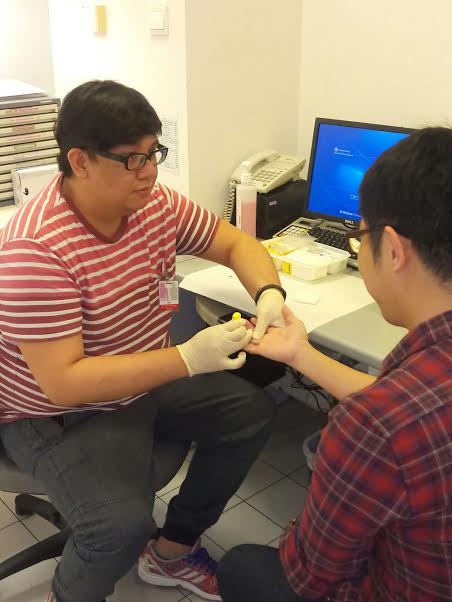 Testing Process
1. REGISTRATION:  Once you complete the registration form, you will get a unique Client ID. Our reception staff will ask for your Client ID.
2. PRE-TEST COUNSELLING: To do an HIV sexual health risk assessment, a counsellor will ask some personal questions about your sexual history. This will be done in a private consultation room, and all information provided will be kept anonymous and confidential.
You can also take this opportunity to ask your counsellor any questions you have about HIV, sexual health, or safer sex (including access to HIV Pre-Exposure Prophylaxis or PrEP).
3. TESTING: Testing will be conducted in separate rooms. For HIV/syphilis tests, a tester will prick your finger to get a few drops of blood for the rapid test strips. For gonorrhoea & chlamydia tests, a tester will swab your throat for an oral test and/or walk you through how to self-swab for a rectal test.
Only sterile and single-use equipment are used for all testing procedures, including gloves, needles, test strips, swabs, and cotton wool.
4. RESULT & POST-TEST COUNSELLING: 15-20 minutes after the test, your counsellor will give you the results of your HIV/syphilis tests. Counselling and referrals will be provided to clients who test positive (see the FAQ below on "What if I test positive?").
For chlamydia & gonorrhoea tests, our staff will call you when the results are available. These tests require a minimum of 2 weeks of processing time. Referral service is provided to clients who may test positive.
Window Period
The window period is the time between actual infection and the point when a test will reliably give an accurate result. Testing before the end of the window period may give you false negative results.
Test
Window Period

HIV (4th Gen) Rapid Test

14 – 90 days

(2 weeks – 3 months)

HIV (3rd Gen) Rapid Test

28 – 90 days

(1 – 3 months)

HIV Self-Testing Kit

90 days

(3 months)

Syphilis Rapid Test

21 – 90 days

(3 weeks – 3 months)

Chlamydia PCR test

(Currently unavailable at ATS)

5 – 14 days

(5 days – 2 weeks)

Gonorrhoea PCR test

(Currently unavailable at ATS)

3 – 14 days

(3 days – 2 weeks)
You are therefore able to do your HIV test at our clinic after 14 days (2 weeks) of exposure, then confirm your status once more at the 90-day (3 months) mark. If you are unsure, our onsite counsellors will advise you on the most appropriate tests for you.
AfA only uses HSA-approved tests with a very high degree of accuracy. Nonetheless, all tests come with a small chance of false results, and our services are not meant to substitute for medical advice. If in doubt, clients should consult their doctor for formal medical advice.
Frequently Asked Questions
The National HIV Programme recommends that everyone aged 21 and above be tested at least once in their life regardless of risk factors. People at higher risk of HIV/STIs should test more frequently (at least once a year).
 National HIV Programme HIV Testing Recommendations
In Singapore, most HIV infections continue to be detected during the course of clinical care and typically at a late stage of HIV infection. Only a very low proportion is diagnosed from self-initiated testing. Early HIV detection and treatment is important because it improves health outcomes and prevents future HIV transmission. The earlier you're diagnosed with HIV, the earlier you can begin treatment and better your prognosis. A person who is on sustained HIV treatment can achieve an undetectable level of the virus in their blood, which means that they cannot transmit the virus to their sexual partners.
HIV: our staff will arrange for a confirmatory Western Blot test (involving blood drawn from a vein) either on the same day or at a future date. We will request for your phone number to get in touch with you about the confirmation result.
Once the confirmation result is ready, AfA will link you up to treatment locally or overseas (for foreigners). We also provide other support services for persons newly diagnosed with HIV, including counselling and support groups.
If you opt for local treatment, your results and particulars will remain confidential but will no longer be anonymous. Only your counsellor and relevant medical personnel (doctor, nurses) will have access to this information.
Syphilis, Chlamydia & Gonorrhoea: AfA can assist you in making a referral for treatment at DSC Clinic.
Testing is not recommended during this period, unless you have had other previous high-risk exposures and have not gone for HIV testing since.
If the HIV exposure was within the last 72 hours, Post-Exposure Prophylaxis (PEP) can help to prevent infection. Drop by DSC Clinic at 31 Kelantan Lane (on weekdays) or the emergency department of any hospital (on weekends or public holidays), where a doctor will help assess your risk before prescribing the medication.
Both tests detect HIV antibodies, which are produced by your immune system in response to infection. Most people will develop detectable antibodies approximately 28 days (4 weeks) after infection.
 The 4th generation tests additionally test for HIV antigens, which are proteins on the surface of the HIV virus. These are detectable from 14 days (2 weeks) after infection, which is why 4th generation tests can be used earlier.
HIV: If you require confirmatory testing after getting a positive result on a rapid test at another clinic, please visit DSC Clinic during its regular operating hours for a different blood test.
Syphilis: The syphilis tests that we provide at ATS are not suitable for those with past syphilis infections. This is because they test for syphilis antibodies, which remain in your body even after the infection has been treated. Please visit DSC Clinic during its regular operating hours for a different blood test.
Chlamydia & Gonorrhoea: We recommend waiting 4–6 weeks after treating past infections before testing again for chlamydia/gonorrhoea. Otherwise, the tests may pick up on remnants from past infections.
AfA has adopted the full 90-day window period for rapid HIV tests in consultation with several agencies overseas that provide similar voluntary HIV counselling and testing services. This 90-day estimate is evidence-based and reliable.