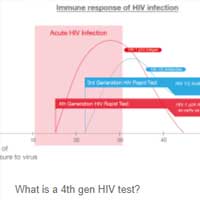 The AFA Anonymous Testing Services have been providing simple, quick and affordable HIV testing utilising 3rd generation test kits for both blood and oral fluids. In an effort to improve our services, the AFA anonymous testing clinic and mobile testing services will be introducing the 4th generation test kits.
---
What's the difference between 4th and 3rd gen test kits?
Fourth-generation tests kits look for both antibodies AND antigens.
P24 Antigens are proteins on the surface of the HIV particle.
Antibodies are produced by the immune system in response to the HIV antigens. They fit together like a lock and key.
3rd generation tests take 6-8 weeks and only tests for antibodies.
4th generation tests are accurate 14 days after exposure, because this is when the p24 antigen becomes high enough to measure; effectively reducing the window period by average of 14 days.
A negative result at 28 days is good news but it is not conclusive. UK guidelines (BASHH) say that an early negative result at 28 days (1 month) needs to be confirmed with a second test 90 days (3 months) after the exposure.
More about p24 antigen
One distinctive HIV antigen is a viral protein called p24, a structural protein that makes up most of the HIV viral core, or 'capsid'. High levels of p24 are present in the blood serum of newly infected individuals during the short period between infection and seroconversion, making p24 antigen assays useful in diagnosing primary HIV infection.
Antibodies to p24 are produced during seroconversion, rendering p24 antigen undetectable after seroconversion in most cases. Therefore, p24 antigen assays are not reliable for diagnosing HIV infection after its very earliest stages. However, HIV infection can be reliably diagnosed earlier with combined antibody/antigen tests than with purely antibody-detecting tests, and fourth-generation antibody/antigen tests are now the standard screening assay in the UK and some other countries.
More about HIV antiboies
Antibodies are protein molecules produced by the immune system in response to allergens, infectious organisms (including viruses, bacteria, fungi and parasites), and sometimes (in autoimmune disorders) the body's own components.
Infectious organisms and allergens display characteristic proteins called antigens. The immune system recognises and responds to antigens by generating corresponding antibodies. An antibody is designed to 'fit' only one particular antigen, rather like a key in a lock. (The word 'antigen' in fact derives fromantibody generation.) By locking on to the antigen-bearing intruders, antibodies aim to render them harmless, to kill them outright, or to 'tag' them for destruction by other components of the immune system.
One or two weeks after initial exposure to HIV, antibodies to HIV antigens begin to appear in the blood, at concentrations which continue to increase for several more months. These antibodies persist for life, providing distinctive markers which can be identified by HIV screening tests