Charity helps to spread Aids message – 14 Apr 2009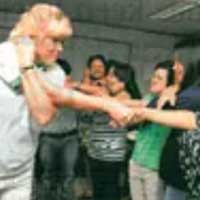 The charity helps to spread the Aids message
Programme trains migrant workers to teach peers about HIV
By Ang Yiying
THE message is clear: Have unprotected sex, and it could be fatal.
The risk of getting and transmitting HIV, the virus that causes acquired immune deficiency syndrome (Aids), is a growing concern, especially among transient workers here, who have little access to outreach programmes. The number of work permit holders in Singapore has risen significantly in the past three years, with the latest Manpower Ministry figures pegging it at 870,000. That includes 190,000 foreign domestic workers and 230,000 foreign construction workers.
Since last year, the Humanitarian Organisation for Migration Economics (Home) – a registered society and charity looking into the welfare of migrant workers – has thought of carrying out HIV education for the migrant population here.
The group views them as a potentially high-risk group because they are without a family support system and have limited access to such health education.
Getting its representatives to attend Standard Chartered Bank's existing programme was a natural choice. The global bank has run its Living With HIV training among its employees since 1999 and in schools and companies here as part of its corporate social responsibility programme.
Said Home president Bridget Lew: 'Peer education is more effective among the migrant population because they trust their own people.'
She said: 'We are doing preventive education because host countries to migrant workers, like Singapore, have a social responsibility to educate them about HIV so that they can protect themselves.
Also, if they are found to be HIV-positive and are sent back to their home countries, they will know how not to infect others.'
Results were evident after a recent half-day training session the bank conducted for 25 Home volunteers, who were mostly Filipino domestic workers.
As part of a group exercise, participants shook hands with a trainer to represent having unprotected sex with someone who is HIV-positive, then shook hands with one another.
Each handshake signified how easy it was to transmit HIV through unprotected sex, and it was not long before everyone was at risk of infection.
Just one session managed to clear up Ms Janet Peremne's misconceptions about HIV transmissions. The 42-year-old domestic worker, who has been here since 1990, said: 'A lot of people say you get it from kissing, hugging. Now I realise, you can't.'
The group intends to spread the word to their friends, each aiming to train 100 peers on HIV's facts and myths, and the 'ABC' of HIV prevention: Abstinence; Being mutually faithful to one partner; Condoms and their proper use. Sri Lankan Kanthi Junkeer, 48, who has been a domestic worker here for 13 years, is already planning to use the information to educate others: 'Some girls, they don't know (about HIV). I think it's good to educate them. For Sri Lankans, I can speak my own language to them.' This means of spreading the information, Home hopes, will help the HIV prevention message get to 3,000 foreign workers in two years.
ayiying@sph.com.sg
Numbers to call:
Home: 6341-5525 (migrant domestic workers) or 6341-5535 (non-domestic migrant workers)
How other groups are reaching out
z SINGAPORE PLANNED PARENTHOOD ASSOCIATION
The voluntary welfare organisation's target is to conduct six HIV prevention talks for foreign workers this year, including one it ran last month with a speaker from Action for Aids. It aims to pass the message to more than 5,000 foreign workers here by the end of this year.
Its strategy is to reach out to them by holding talks in the workers' mother tongue. Its last talk, for instance, was held in Tamil during a 45-minute interval of a movie screening.
Its executive director Choy Weng Leong said that migrant workers could be a risk group as they have been underserved in HIV education.
Action for AIDS Singapore maintains all rights to these contents
If you see something that should not be here and would like us to remove or update, drop us a mail with the link or title of the content.
MEDIA: Please contact us for permission to use these contents.